Are you comparing Nextiva vs RingCentral vs Ooma to find out the best VoIP provider for your business?
Many small businesses rely on phone services to communicate with customers and Nextiva, RingCentral, and Ooma are among the top business VOIP providers on the market.
In this article, we'll compare Nextiva vs RingCentral vs Ooma to help you decide which one is the best small business VoIP provider.
Comparing Nextiva vs RingCentral and Ooma VOIP Services
Many small businesses use VoIP phone services for sales, customer support, and team collaboration.
Nextiva, RingCentral, and Ooma are considered among the top VoIP providers for small businesses.
They offer toll-free numbers, virtual numbers, cheaper local and international call rates, easier team collaboration, and more.
Business phone services is a highly competitive industry and all of our top three contenders offer similar features and pricing. This makes it difficult for small business owners to choose one of them for their business.
To make this easier, we'll do a side-by-side comparison of Nextiva, RingCentral, and Ooma for the best business VoIP service providers.
We'll look into the following criteria.
That being said, let's take a look at Nextiva vs RingCentral vs Ooma to find out which one is the best small business VOIP provider.
Pricing Comparison
Pricing is one of the top deciding factors for small businesses looking for a VoIP service provider.
All three of our contenders offer very competitive pricing for similar features. However, they use a variable pricing model based on the number of users, plan duration, and features.
This makes it difficult to decide which VoIP service provider is cheaper for small businesses.
Nextiva Pricing
Nextiva has a variable pricing model where your pricing changes based on the number of users, payment duration, and feature plans.
For instance, you can get started for $18.95 per user each month (paid annually) if you have more than 20 users.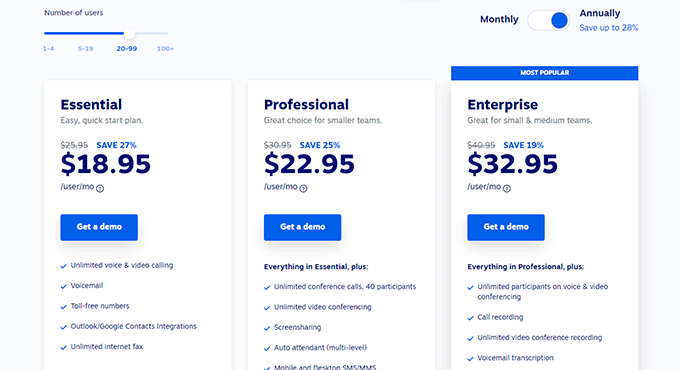 If you have fewer than 4 users, then you can get started for $23.95 per user each month (paid annually).
This means that your costs will go down as your team size grows and you need to add more users to your account.
RingCentral Pricing
RingCentral pricing plans use a slightly different pricing model.
Their Essential plan starts at $19.95 per user each month (paid annually) for up to 20 users.
This means that if you have a smaller team of fewer than 20 users, then you can save some money and have room for growth too.
Ooma Pricing
Ooma offers pretty straightforward fees. Their rates differ based on which plan you choose regardless of the number of users.
This means that if you choose the Essential plan, then you will pay at the same rate when your team grows.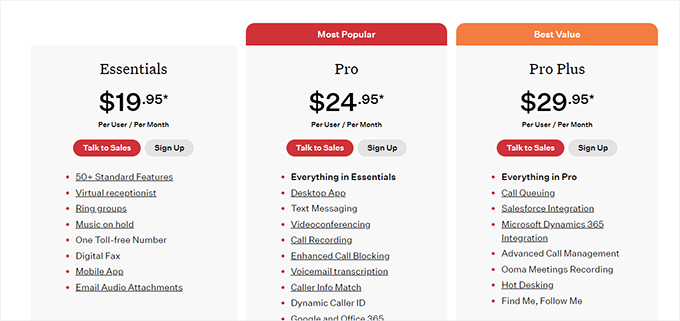 Ooma only offers month-to-month payment plans which means you pay as you go and can easily cancel at any time.
Winner: Tie – All three of our contenders offer similar pricing that is very close to each other.
Feature Comparison
Perhaps the most important thing when choosing a VoIP provider is the features they offer.
Nextiva, RingCentral, and Ooma all offer a ton of features with each of their business phone service plans.
However, you'll need to choose one based on your own requirements. For instance, video conferencing may not be important for some small businesses, while it could be a deal breaker for others.
Another important thing to consider is which pricing plan includes the features you need. As all of them offer different sets of features for each VoIP plan.
Nextiva Features
As one of the best business VoIP providers on the market, Nextiva offers a unified communications platform with the most value-to-money features.
Unlimited domestic calls in US and CanadaHD voice qualityFree local and toll-free number plus number porting allows you to bring your existing number as well. Voicemail, voicemail to email notifications, voicemail to SMS, voicemail transcriptionSupport for desk phones, conference phones, and other telephone devices you may want to use. Apps for browsers, iPhone, Android, and desktop computersVideo meetings and conferencing Call logs, call recording, call routing, auto attendant, IVR, and more.
Plus, you can share the same number with different team members.
Contact management features make it super easy to follow up on calls and don't let the leads slip away.
You can also integrate your own CRM software or use Nextiva CRM for better lead management.
Basically, you can run your own small cloud-based call center at the fraction of the cost with highly advanced features to save you time and resources.
RingCentral Features
When it comes to features RingCentral gives tough competition to Nextiva.
They offer all the business phone features that a small business would need and then some more.
Unlimited calling for the US and Canada. Free local and toll-free phone numbers. SMS and voicemail supportTeam messagingVoicemail to text alertsVideo meetings and conferencingDesk phone supportYou can receive calls on the go using your phone or laptopReal-time call analytics
RingCentral offers all common VoIP phone features like call forwarding, number sharing, call waiting, call management, and more.
It also has integrations for popular CRM software like Salesforce, Zendesk, and more.
Ooma Features
Ooma Office offers a bunch of features in their VoIP plans that will help you grow your small business.
However, some features are available in their more expensive plans. For instance, you can only get access to the Desktop app and text messaging with their PRO plan.
Following are the features you can expect to get based on the plan you choose:
Local and toll-free numbersUnlimited local calls to the US, Canada, Mexico, and Puerto RicoCall features like recording, call waiting, voicemail, and more. Microsoft Dynamics, Office 365, and Google integrations are availableSalesforce Integration (only with Pro Plus plans)
While Ooma offers the most commonly requested features for a VoIP provider, it does lack several features offered by the other top contenders.
Winner: Nextiva
Available Integrations
Integrations help you connect your VoIP phone service to other apps and platforms that you may already be using.
Many businesses need integrations with CRM software like Salesforce, Zendesk, Hubspot, and more. This helps them easily manage customer relationships and can keep track of leads without losing them.
Let's see how our top contenders stack up when it comes to integrations.
Nextiva Integrations
Nextiva offers comprehensive integrations suitable for all types of small businesses.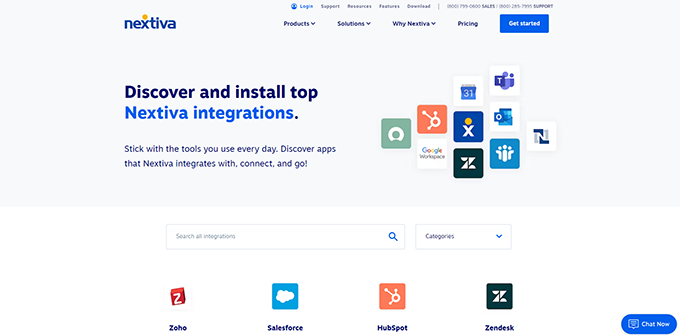 It has ready-to-use integrations for all the top CRM software, productivity suites, team communication apps, and more.
This includes Salesforce, Zendesk, HubSpot, Zoho, Microsoft Outlook, Google Workspace, Microsoft Teams, and more.
RingCentral Integrations
RingCentral offers an extensive set of integrations as apps and add-ins that you can add to your account.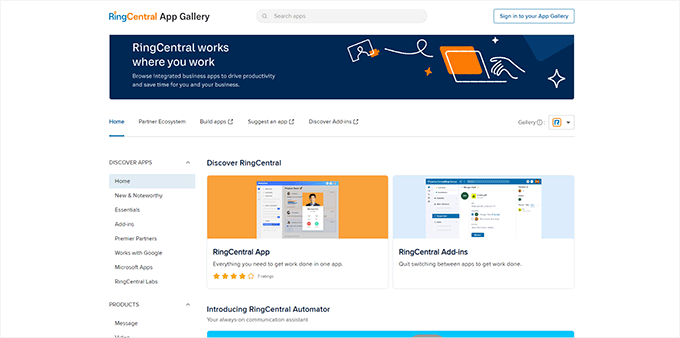 They offer several apps for Google Workspace, Microsoft 365, Microsoft Teams, Microsoft Dynamics, and more.
Their integrations also cover the top CRM software that you may already be using including Salesforce, Zoho, HubSpot, and more.
Ooma Integrations
Ooma does not offer as many integrations as Nextiva or RingCentral. Their Pro plan offers integration with Google and Microsoft Office 365.
You'll need to upgrade to their Pro Plus plan to unlock Salesforce and Microsoft Dynamics 365 integrations.
Apart from that, you can still use it with your own CRM software but it will be less efficient to track contact history and manage leads within your phone or CRM software.
Winner: Nextiva
Customer Support Options
Unlike traditional phones, VoIP phones are a relatively new technology so many small businesses may need a little bit of help to make the most out of it.
This is why customer support is an important aspect to consider when choosing your VoIP phone service provider.
Let's compare how our top contenders stack up in terms of customer support options.
Nextiva Customer Support
Nextiva customer support is available through 24/7 live chat, email tickets, and phone.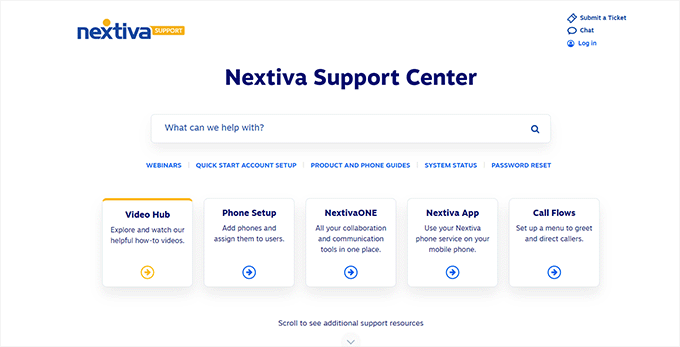 Plus, they have a comprehensive knowledge base that covers all the commonly asked questions by users.
Finding answers in the knowledge base is fast and easiest way to fix things on your own. However, if you need to speak with someone, then you'll find their phone and live chat support agents friendly and helpful.
Customer support representatives know their stuff very well and wouldn't mind going to great lengths to help you out.
RingCentral Customer Support
RingCentral offers support through 24/7 phone, live chat, and email tickets. They also have an extensive library of articles, how-to guides, manuals, and more.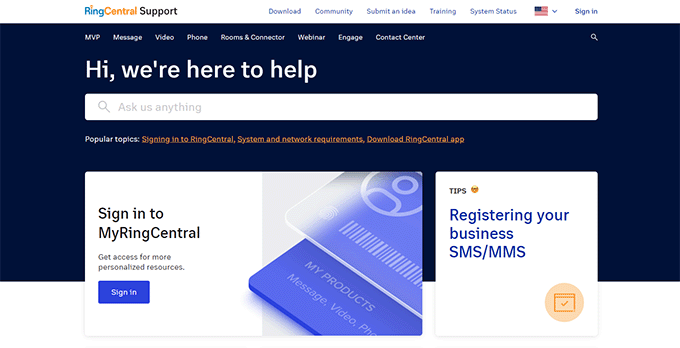 Support response times are fast and representatives are well-trained and highly helpful.
Ooma Customer Support
Ooma offers the same customer support options as the other contenders on the list.
This includes 24/7 live chat support, email tickets, self-help articles, and phone support.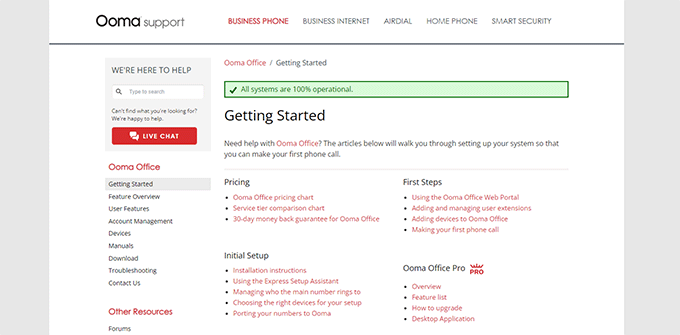 Winner: Tie
Mobile App Comparison
With many businesses switching to a remote or hybrid work model, it is important to consider the mobility of your VoIP service.
This allows remote teams to stay in touch and never miss a call even when away from the desk.
All three of our contenders offer mobile apps for Android and iOS devices. Let's see how their mobile apps perform against each other.
Nextiva Mobile Apps
Apart from laptop and desk phone systems, Nextiva also offers apps for iOS and Android smartphones.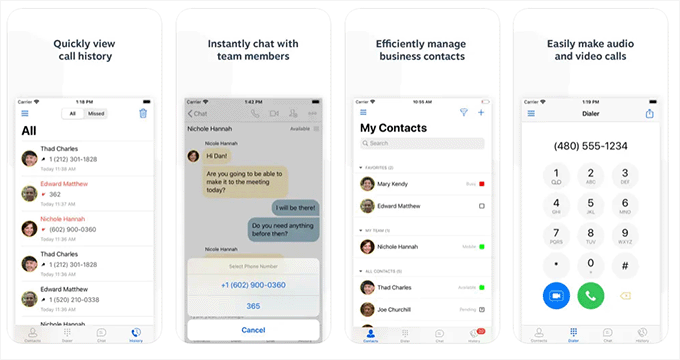 These apps come with a sleek and easy-to-use interface that allows you to easily make and receive calls, text with team members, manage contacts, and more.
RingCentral Mobile Apps
RingCentral also offers mobile apps for Android and iOS smartphones. These apps are highly intuitive and allow you to easily manage calls while on the go.
Additionally, RingCentral offers separate apps for Meeting Rooms, which is their video conferencing platform.
Ooma Mobile Apps
Ooma doesn't offer desktop apps for its Essential plan but it does offer mobile apps for all small business plans including the Essential plan.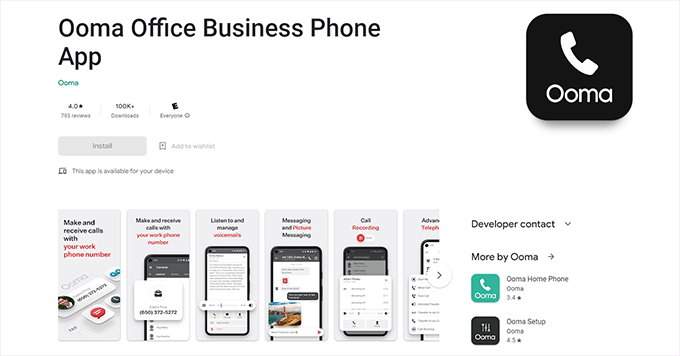 The app provides easier contact management, and call and text functions. However, user reviews indicate that it does not work very well for many users.
Winner: RingCentral
Conclusion: Nextiva vs RingCentral vs Ooma – Which is The Best Small Business VoIP Provider?
We believe that Nextiva is the best small business VoIP phone provider on the market.
It offers competitive pricing, a ton of features, the best call quality, lower rates for international calls, and a wide range of numbers to choose from (local, international, toll-free, vanity numbers, and more).
→ Click Here to Get Started with Nextiva ←
Note: WPBeginner users can use our Nextiva Coupon to get 20% off when they sign up.
RingCentral comes as a very close second. They offer many of the features offered by their competitors and a slightly better mobile app experience. You can use our RingCentral coupon to get a discount.
We hope this article helped you compare Nextiva vs RingCentral vs Ooma to find out which one is the best VoIP service. You may also want to see our pick of the best email marketing services for small business, or see our article on how to get a free business email address.
If you liked this article, then please subscribe to our YouTube Channel for WordPress video tutorials. You can also find us on Twitter and Facebook.